(that we never used for fear of suffocating our baby)
, crib skirt, fitted crib sheet, super cute blanket
(that I never used for fear of making it look bad after many washings)
, and diaper stacker. Of all the things the came with the crib bedding set, we used the fitted crib sheet and the diaper stacker.
So, when my second son made the move from sleep sack to blanket, we chose a baby/toddler duvet and duvet cover from IKEA. I mean, my husband is German after all
Even though I know that Americans use duvets, that is not how I grew up. For me growing up,
normal
American bedding meant a comforter, blanket - maybe, top sheet, fitted sheet and pillowcase, and when we started our life together here in the States, that is how we made the beds, or rather how I made the beds. This is not to say that my husband isn't a great help around the house, but he just didn't understand the bedding system, the hospital corners my mom taught me on the top sheet, etc. He also hated having tucked in sheets,
which I LOVE
. His feet must be FREE. So we graduated to a duvet that covered the entire bed like a comforter. Eventually, that was too hot
(for him - being on the cold side, I loved the extra man heat)
. Finally, we went totally German. We each have our own single duvets with matching duvet covers, and this is how our children sleep as well.
I have to say that I quite like the German way as long as my duvet is long enough to be tucked in at the bottom, because this girl likes warm feet.
So, while IKEA covers for their toddler duvets are cute, they just didn't fit my son's interests.
Cute little elephants just don't compare to trains, tractors, or tilting dumpers. So, when my baby boy became a toddler and needed his own cover, I decided to make one ...
of course
.
Over the Christmas holidays, I found some cool fleece material with tractors on it to match a clearance Pottery Barn pillowcase that I had bought earlier. Since the tractors were a bit expensive, I paired it with a solid yellow fleece that matched the yellow in the tractor print for the underside of the duvet cover.
Materials
1 1/2 yards of 2 different fabrics 43" or wider
OR 3 yards of 1 fabric 43" or wider
IKEA Baby/Toddler duvet
thread
Snap or other closure
Interfacing for snap closure
Project Measurements
43" x 49" - IKEA toddler duvet claims these dimensions
41" x 48" - Finished duvet turned right-side-to
44" x 50.25" - Cut fabric for one side of duvet. I think you could easily get away with a 43" wide fabric as well.
Because I had an IKEA Toddler Duvet cover already, I laid out both pieces of fabric on the floor and laid the existing duvet cover on top. I cut a half inch seam allowance around 3 sides but added 2" to the bottom where the duvet closure will be.
Place the wrong sides of your cut fabric together, and sew a half inch seam allowance and zigzag/serge the sides and the top, leaving the bottom open completely. Or not - if you notice the IKEA duvet in my original images, has a very small opening with no closure. My husband complains bitterly about this kind of duvet opening and how difficult it is to put on the duvet, thus my open wide with snap closure approach.
No more excuses for my husband to not make the bed.
:)
Since the fleece is such a stretchy material, I added another straight stitch seam to add strength. It is likely unnecessary, but hey, I like to be safe rather than sorry when it comes to my roughhousing boys.
Cut several 1 inch strips of interfacing to line the bottom opening to provide a sturdy anchor for your closures. I used Kam snaps and needed approximately 3 1 inch strips of interfacing.
I started by pinning the interfacing to the bottom (the open part), wrong side of the fabric of my duvet.
Each piece of interfacing was overlapped a bit to create a continuous piece.
When the one inch interfacing lines the entire bottom opening, sew it into place. I sewed a straight stitch at the top and the bottom of my interfacing.
The interfacing makes it easy too to fold over. You don't have to measure anything. Just fold the end of your duvet down over the interfacing using the interfacing as your guide, pin and sew down. Fold one more time, pin and sew. There are many ways you can finish this last fold. This go round I chose to do 2 straight stitches close together, instead of on either end of the folded material.
(I made another toddler duvet cover where I used this approach - keep stopping by and I will get it posted soon.)
Finally, I attached my KAM snaps approximately 5-6 inches apart. Do what feels right for you.
I owe a big thanks to my son's teddy bear for lying so still and modeling my creation. It works quite well with the Pottery Barn tractor pillowcase. Either way, it makes my little man super happy to go to bed with tractors.
Kelley
Featured here!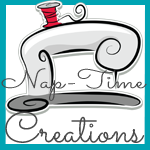 Linked up at the parties below: