To make a long story a little longer, my son kept asking (badgering really) to make a rubber band bracelet, day after day. Being a new mom and so tired I felt drunk, my usually fairly frugal self, would have been satisfied to just buy one of their looms, already! Unfortunately, during my weekly sleep walk through Walmart food buying trip, I could find the rubber bands but not the stinking loom.
I was even willing to buy an official expensive kit, but I couldn't find one of those either.
So, what did I do?
You have probably guessed it already.
I made my own
, 3 to be precise - one for me, one for my oldest and one for my second son, who always wants to be included even though I knew he didn't quite have the dexterity to quite accomplish this task.
Here is how you do it.
Step 1
Grab a stray scrap of wood, mine where 2x4's about 4-5 inches long and 2 screws that match the depth of your wood plus about a quarter of an inch unscrewed, mine were 1 1/4" long.
I had a lot of room to play with since I was using scrap 2x4's.
Make sure to sand your wood to remove any splinters!
Step 2
Approximate the center, and mark your holes one inch apart.
Step 3
Screw your screws into the marked holes, leaving approximately a quarter inch above the wood. If your wood is hard or easily split you should predrill your holes.
Now, you are ready to make your rubber band bracelet. Fish out an old crochet hook and go to town.
My oldest loved this, and I ended up not only making my own but making his brother's too. Here are some pictures of us with our DIY looms. My oldest is so very serious. :) And I was able to do it with my new baby in her wrap. It was so easy to make too. I made 3 DIY looms in about 30 minutes. The longest part was sanding the blocks down.
Hope that helps someone else venture into this new territory on the cheap!
Kelley
Linked up at the parties below: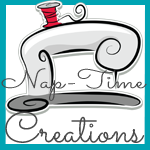 MadInCrafts.com