pedestal sink. It was the smallest one we could purchase in the store - 19 inches wide, and our master bath offers the distinct luxury of allowing one to use the toilet and brush one's teeth at the same time when getting ready for bed. In our other slightly larger bathroom, we were able to fit a 30 inch vanity, but we needed a new toilet paper holder to attach to the vanity's side, since the porcelain one was getting covered up by the vanity. It was similar in design and style to the holder in the picture, which I plucked from Amazon because ours is already in the hands of the Goodwill.
I have no idea how this particular product actually attaches, but OURS (again not this product or manufacturer) always rocked back and forth where it was mounted to the vanity, so that it was never level. This became more noticeable when my oldest started potty training. You are not going to make a potty training kid straighten the toilet paper roll holder. You are simply glad his business is going in the toilet and not his pants!
So, this finally annoyed me enough, that I decided to build my own. I wanted the easy replace aspect of this style but with more support to prevent it from wobbling back and forth. I thought I could do this with plumbing supplies based on DIY-er who had made curtain rods with electrical/plumbing supplies.
Here are the ingredients that I used.
2 - 1/2 in. galvanized steel split ring hanger
1 - threaded metal rod
2 - 3/8 in. galvanized steel ceiling flange
2 - 1/2 in. galvanized steel pipe caps
1 - 1/2 in. x 12 in. galvanized steel pipe
(or much knowledge about any plumbing supplies for that matter)
, and it was chance that I found threaded metal rod on my way out in the nuts and bolt area, despite the fact that these guys are obviously used to connect a split ring and a ceiling flange. To test whether or not the threaded metal rod fit my parts, I just tested it through the plastic packaging.
The whole shebang cost between $18-20. If you want to spray paint it to get a more unified color this will cost more, unless you already have a can handy. I chose not to paint mine because that would have taken time.
I wrapped the threaded metal rod with painters tape to keep the hack saw, which I borrowed from Grandpa to cut it, from slipping. It also made it easier to mark the lengths that I wanted to cut.
The lengths I cut were based on how far away from the vanity I wanted to mount it so that the toilet paper roll could still turn freely. This can be somewhere between 2.5 -3 inches depending on your preference. Since I wanted this guy installed asap, and I want to replace the vanity anyway, I mounted it directly to the vanity. If I were mounting it to the wall or a vanity that I liked, I would have mounted it on a length of wood so that I would only have 2 mounting points instead of 4.
Here she is all put together.
And here is the final product with extra toilet roll holder.
This has to be the most useful/quickest DIY project that I have accomplished. My biggest difficulty was keeping the kids out of my hair long enough to mount it with my level.
I love it, and I hope you do too.
Kelley
Featured here: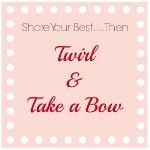 Linked up at the parties below: